I admit I am very new to crocheting. I started to learn in December, 2011 when I was visiting my mom in Indiana. She was so excited to show me some of her creations she had made. They were adorable crochet hats. You see, my mom had recently been diagnosed with uterine cancer and was beginning the treatment process and had started to lose her hair. Her doctor told us this would happen and thankfully we were prepared.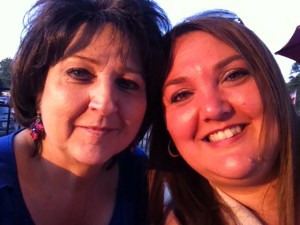 A month prior to her first treatment we had heard about a local non-profit called River Bend Cancer Services in South Bend, Indiana that donates new wigs to patients fighting cancer. They were wonderful! The lady at River Bend really took her time to talk with us, give us advice and answer our numerous questions. By the time the appointment was over my mom had a brand new beautiful wig PLUS three crocheted hats, a silk pillowcase, and a lap blanket donated by a Notre Dame student all at no cost to us. Wow! Really? I never knew a place like this existed. It was right then that I felt a tug from the Lord on my heart telling me to do something. But what? I didn't really understand until my mom showed me the hats she had made just like the ones she received from River Bend. It was like a light bulb over my head and the Lord showing me what he meant. Give back… help someone else like we were helped. So began our journey making and donating hats, scarves and lap blankets to cancer patients.
God has blessed our ministry and it has grown by leaps and bounds inspiring ladies from around the world to donate caps to their local hospitals and oncology offices. Crochet for Cancer, Inc. was formed in February, 2012 and is a registered non-profit corporation which has now partnered with numerous cancer centers and founded several chapters throughout the US & Canada. We have answered God's call and He has truly blessed us with a beautiful ministry helping men, women and children as they fight cancer.
Unless the Lord builds the house, the builders labor in vain.   ~Psalm 127:1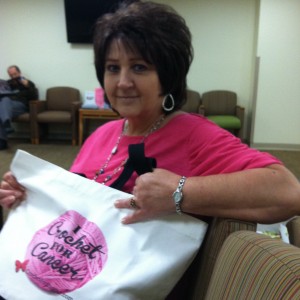 In Memory of Pam Harshman
3/30/1949 – 3/5/2014
My Mom's Journey:  On October 9, 2011 my mom was diagnosed with stage 3a uterine cancer. She had a complete hysterectomy followed by several chemotherapy treatments.
My mom finished her chemo in May, 2012 followed by 31 rounds of radiation which she completed in late June, 2012.
On September 24, 2012 we received another set back. The doctors said her cancer had spread to her lung. She began another round of chemo on October 8, 2012 which did not work and the tumor grew. She started an intense round of chemo in January, 2013.
In June, 2013 the doctor broke the news that unfortunately the cancer was resistant to this round of chemo. She began a new chemo drug July, 2013.
September, 2013 after reviewing a scan, the doctor said the tumors were extremely resistant to medicine. My mom made the decision to continue with chemo.
In January, 2014 we received news that the tumors had spread to my mom's brain and on Wednesday, March 5, 2014 at 12:05 pm EST she went home to be with the Lord. She fought a honorable battle and kept her faith till she took her very last breath.
"Call to Me, and I will answer you, and show you great and mighty things, which you do not know." Jeremiah 33:3